This is it!  A week before publication date and the last of my I'LL NEVER LET YOU GO Countdown to Pub Date Giveaways begins. In play are my earlier Morgan Family novels, BE AFRAID and COVER YOUR EYES.  And, since I'LL NEVER LET YOU GO is the third in my quartet featuring the Morgan siblings, there will be three winners.  Each will receive both novels.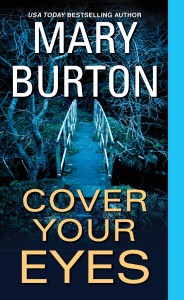 I'm excited about readers getting their hands on Alex and Leah Carson's story. As usual, I'm looking forward to hearing your and others' thoughts about my characters, especially Alex and Leah, as well as the latest mystery confronting Nashville P.D.'s Homicide Division and, this time, the Tennessee Bureau of Investigation.
In I'LL NEVER LET YOU GO, Leah's past holds secrets and horrors that are key to the murder of a police officer who Alex was investigating.  It's up to Alex to peel back the protective layers Leah's built in order to find out what links her to
his case.   Which can only happen if she chooses to dig deeper into her past and can find the additional courage needed to trust him.  First, though, she has to come to terms with the fact that a killer, once again, may be lurking, literally, right outside her door.
I hope you'll join Alex and Leah, Deke and Rachel (COVER YOUR EYES), Rick and Jenna (BE AFRAID) and Georgia and Jake (2016's VULNERABLE) in I'LL NEVER LET YOU GO, and that you'll enter my new contest for a chance to win the earlier Morgan Family novels for yourself or a friend. And, while you're waiting, you may want to grab the excerpt!
See you in Nashville!