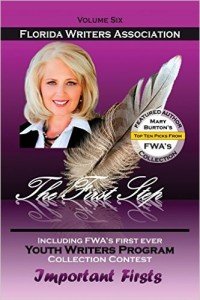 The First Step, Florida Writers Association, Volume Six
Enjoy Mary Burton's story, The Summit. Inspired in part by the background she created for the character Alex in her Morgan Family novels, it shares insights into how a moment in the past can have a major impact, causing a man to step back and become detached from those around him.
"This wonderful collection of stories is sure to hit every emotional button. You'll smile, laugh and – if you're like me – probably shed a few tears."
–Dee J. Adams, 2014 winner of the Gayle Wilson Award of Excellence, Romantic Suspense Single Title Writing
"Short stories? Hard work I've learned how difficult it can be after thirty-five novels. I'd much rather write 200,000 words. But this collection showcases it all. Variety, originality and creativity! Bravo!"
–Linda Conrad, bestselling author for Harlequin-Silhouette Books and winner of the National Readers Choice Award, the Romantic Times Reviewers Choice Awards and the Maggie Award of Excellence.
"FWA is proud to present the winning entries for the first-ever Youth Collection contest, which appear in a special section at the end of this book. If these sensitive, nuanced stories are any indication, the future of our craft never looked brighter."
–Chris Coward, President, Florida Writers Association, Winner, 1st Place, Unpublished Science Fiction, FWA Royal Palm Literary Award competition for Stone Perfect.
Submitting for this year's theme, "the first step," writers reflected numerous beginnings, directions, and inspirations as well as mentors. The results may pull at your heartstrings, or make you laugh, but all will entertain you. Florida Writers Association, a preeminent organization for writers, presents over sixty exceptional stories in its sixth short story collection. FWA is also excited to include winning authors from its first Youth Writers Program Collection contest, themed "important firsts."
"It is with heartfelt gratitude that FWA acknowledges Mary Burton's contribution to this publication. She had perhaps the hardest job of all…picking only ten to be her favorites out of the truly wonderful sixty winning stories."
–Sue Gerheim, Coordinator for The First Step