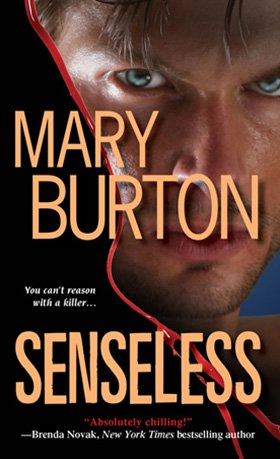 Every Serial Killer Knows
The vicious burns scarring the victims' flesh reveal the agony of their last moments. Each woman was branded with a star, then stabbed through the heart. With every death, a vengeful killer finds a brief, blissful moment of calm. But soon it's time for the bloodshed to start again…
The Perfect Time
Ten years ago, Eva Rayburn and her sorority sisters were celebrating the end of the school year. That party turned into a nightmare Eva can't forget. Now she's trying to start over in her Virginia hometown, but a new nightmare has begun. Every victim is linked to her. And Detective Deacon Garrison isn't sure whether this mysterious woman needs investigating—or protecting…
To Make His Mark
Only Eva's death will bring peace. Only her tortured screams will silence the rage that has been building for ten long years. Because what started that night at the sorority can never be stopped—not until the last victim has been marked for death…
Senseless Excerpt
Fire engines and dozens of cop cars surrounded the building, their bright red and blue lights flashing in the dark.
Eva's head spun as the old memories of another fire rose up inside her and coiled around her chest. She could barely breathe and for a moment wanted nothing more than to bolt. Instead, she held her ground, shoving trembling hands through long black hair. She scanned the crowd for anyone that she recognized. Sally managed the shelter but she was nowhere to be found. And Rhonda, the evening manger wasn't anywhere in sight.
Oh God. Oh, God.
Her mind tripped to the people who were to have spent the night in the shelter. Tony. Pam. Luna. She kept hoping she'd see them next to one of the EMS trucks huddled safely under a blanket. But she didn't see anyone.
She hugged her arms around her chest, wanting to rush forward under the yellow crime tape and ask the cops about the building occupants, but she didn't. Since she'd gotten out of prison six months ago, she avoided the cops. Cops translated into trouble and she'd sworn never again to trust a cop or return to prison.
But her friends. God, she had to find out something.
Tucking her head low, she moved toward the edge of the growing crowd of onlookers mesmerized by the bright red flames. The heat would be so hot now that it could sear lungs and melt flesh.
Eva glanced toward an elderly man with wire-rimmed glasses and a Steelers sweatshirt that hugged a rounded belly. "Hey, you know what happened?"
The man shook his head. "Can't say. I was watching the Price is Right when I heard the sirens. I came out to look and saw the house on flames." He nodded his head east. "I live a block and a half away but could see the light of the flames as clear as day."
She nearly choked on the lump of tension in her throat. "You don't know how it started?"
Nope."
As the cop lights flashed, she resisted the urge to run. "Anyone know anything?"
"Couldn't say."
Emotion shortened her temper. "They bring anyone out? I mean from the shelter."
"Not that I've seen. The firemen just got the flames contained enough to get close to the building. There might be people around the back side."
"Thanks."
Eva hugged her arms around her chest and moved through the crowd, listening and collecting any bits of information that would tell her what had happened.
"Said it started just after seven."
"Heard an explosion. Those old gas heaters are trouble."
"Odd folks came and went from that place. Always knew that place was nothing but trouble. But looks like they brought in the big guns cop-wise. They're taking this seriously."
Being near so many cops left her edgy and worried. Goons like Radford could be managed whereas cops equaled to real trouble. She shoved out a breath and buried her emotions down deep inside. Prison had taught her that showing true fear not only showed weakness but also provided leverage for your enemies.
She focused on the fire. Who could have done this? Sally understood trouble often followed her residents and she was careful to keep the peace. They had code words. Security systems. Eva admired Sally's careful planning.
Her gaze skimmed the crowd of onlookers who looked shocked and terrified. Their sadness magnified her fears. As she turned to leave, her gaze settled on a lone figure standing just inside the yellow tape. His back was rigid, his arms folded over his chest. He wasn't weeping, whispering or afraid to look at the destruction. In fact, he glared at the dying embers with defiance.
Taller than most around him, this man had broad shoulders and a battle-like stance suited to an ancient warrior more than a modern day man. When he turned slightly the fire department's floodlights caught his profile. His chin was covered with dark stubble and jutted forward, as if anger chewed at his insides. Dark hair teased the edge of his collar and begged for a trim.
This one was a pit bull who gave off a big-time cop vibe. She'd bet money that nothing stood between him and a closed case.
A shiver crept up her back and coiled around her throat choking the breath from her lungs. Cops determined to close a case a decade ago had stolen ten years of her life. Just tell us you killed him, Eva. Just tell us…
As she retreated, the cop turned as if guided by radar. His gaze locked on her like a hunter would a deer. She froze, refusing to show fear all the while watching closely for any sign of trouble.
Eva swallowed. Her skin tingled and the muscles at the base of her spine bunched painfully. Not good. Not good at all. Smart ex-cons stayed off all cops' radars, especially at a crime scene.
It had been a mistake to linger. She didn't want to be noticed by anyone, especially a pit bull cop. Carefully, Eva kept her expressions neutral as she slowly shifted her gaze away from his. She pretended to smile at something the man next to her said and made a nonsensical comment. Then as if she were just another gal out for an evening stroll, she melted into the crowd.
Her muscles screamed: Run, Hide!
But she didn't.
Experience had taught her that even the innocent looked guilty when they ran.
Senseless Reviews
"Stieg Larsson fans will find a lot to like in Burton's taut, well-paced novel of romantic suspense."
— Publishers Weekly
"In the first of two linked novels, rising romantic suspense star Burton gives us a fast-paced thriller with a touch of romance. With hard-edged, imperfect but memorable characters, a complex plot, and no-nonsense dialog, this excellent novel will appeal to fans of Lisa Gardner and Lisa Jackson."
— Library Journal
"Powerful characterization and expertly calculated plotting will have readers at Burton's mercy, turning the pages anxious to read what happens next."
— 4 stars, Romantic Times